Date published: 27.09.2021
The Eco-Score Labelling is gaining Ground
To inform consumers about the environmental impact of the products they buy and help them make informed choices, a new label has been developed: the Eco-Score, which uses the same model as the Nutri-Score labelling system. In the UK, more and more consumers are adopting a sustainable lifestyle and favouring products which do not harm the planet. In this article, we look at the beginnings of the Eco-Score and how retailers are embracing this initiative.
How does the Eco-Score work?
The Eco-Score is an independent initiative, first launched in France in January 2021. It is a joint effort by a consortium of 10 food actors: Yuka, ECO2 Initiative, ScanUp, Open Food Facts, Etiquettable, frigo magic, La Fourche, Food Chéri, Marmiton and Seazon.
The label shows the environmental impact of a food product. The idea is to provide the consumer with a benchmark at a glance, through a letter and a colour. There are 5 categories in total, ranging from A (very low environmental impact) to E (very high environmental impact) based on a score out of 100:
Category A (dark green): Eco-Score between 80 and 100
Category B (light green): Eco-Score between 60 and 80
Category C (yellow): Eco-Score between 40 and 60
Category D (orange): Eco-Score between 20 and 40
Category E (red): Eco-Score between 0 and 20.
The calculation of environmental impact takes into account air, water, ocean and soil pollution as well as impacts on the biosphere, throughout the product's life cycle.
So how is the Eco-Score determined? It is mainly based on a Life Cycle Assessment (LCA), with a score out of 100 points awarded using data from Agribalyse, a database of LCAs of agricultural products developed by the French Agency for Ecological Transition (Ademe) and the French National Research Institute for Agriculture, Food and the Environment (Inrae). The LCA score is the same for products of the same type (e.g., a tomato sauce), unless the user is able to recalculate the whole recipe.
Other criteria influence the total score, with a bonus/malus system added to or deducted from the LCA score obtained:
– The production system, with a bonus of 5 to 20 points. Additional points are awarded for food products with a specific label (organic, Rainforest, Demeter, etc.)
– Local sourcing, with a bonus of 0 to 15 points
– The environmental policy of the producing countries, with a bonus/malus of -5 to +5 points
– Packaging circularity, with a malus of 0 to -15 points
– Endangered species and impact on biodiversity, with a malus of -15 points.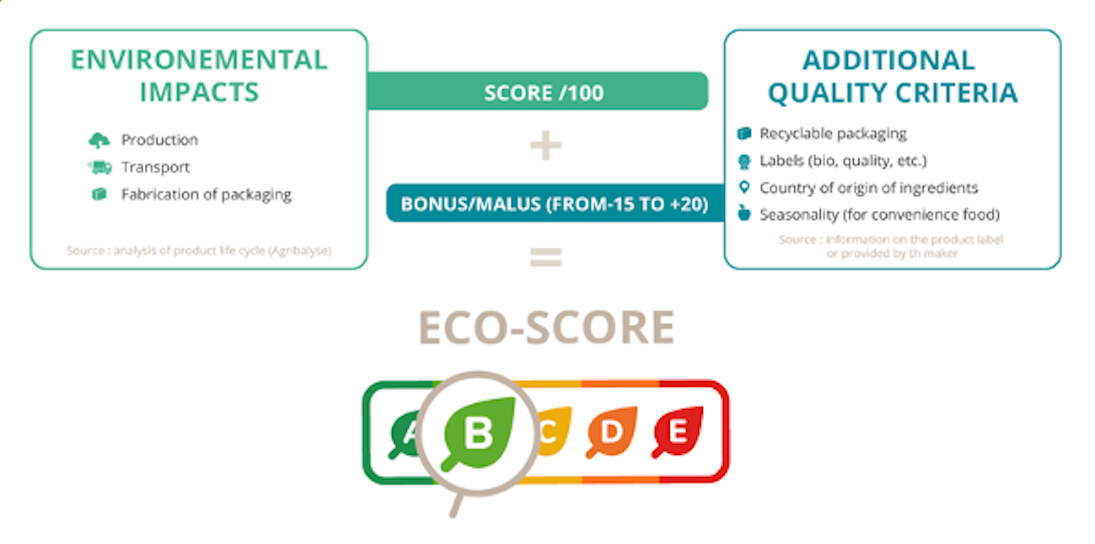 Why is the Eco-Score relevant?
Sustainability remains a key consideration for consumers in 2021 as shown by the Deloitte Sustainability & Consumer Behaviour survey. 55 % of British consumers say they favour brands that have environmentally sustainable practices and values when grocery shopping for food and non-alcoholic beverages.
However, research by Capgemini shows that many consumers feel they do not have sufficient information to grasp a product's impact on the environment. In addition, there is a lack of trust. Close to half of consumers (49%) say they do not have any information to verify the sustainability claims of products and 44% say they do not trust product sustainability claims.
Initiatives such as the Eco-Score labelling can help consumers make more informed decisions. Marjolein Hanssen, consumer food analyst at Rabobank, shared with Food Navigator: "For example, a consumer might decide to replace their regular cashew nuts with a more sustainable version, or a completely different snack with a higher environmental score. Alternatively, a shopper might be surprised by the high environmental footprint of an avocado and opt for hummus on their toast instead."
Retailers among the early adopters
Several European retailers have decided to adopt the Eco-Score, including Lidl, Carrefour, and Colruyt.
Lidl has decided to test the Eco-score in Belgium and in Scotland. In Scottish stores, the trial will take place between early September and mid-November with information on the shelf about the Eco-Score of all teas, coffees and hot chocolates.
Here is an example with the Lidl brand (source : Lidl.co.uk) :

On its website, Lidl explains: "With the findings of our pilot, we would like to understand how successful Eco-Scores are in helping customers to make more sustainable purchasing decisions. We'll use the findings from consumer surveys, sales information and feedback from partners to help us guide our next steps."
Carrefour has chosen a slightly different approach. It is currently testing the Eco-Score with its clients who purchase online in France, through click & collect and home delivery channels. On the Carrefour website and mobile app, the Eco-Score label is displayed on all food products, from national brands and private label. The results of the experiment should be known in October.
The Belgian group Colruyt has decided to implement the Eco-Score on its 3,500 private label products (Boni Selection). The Eco-Score of these products can currently be checked through a mobile app and will soon be displayed on all product packaging.
Stefan Goethaert, responsible for the Eco-Score project at Colruyt Group, shared with Retail Detail: "People want simple, relevant information. They want to go beyond the health benefits of a product and its nutritional value. Market research has shown that customers are also asking questions about the impact different products have on the environment. It is up to us as a retailer to help them make decisions, starting with our own-brand products".
A competing project from Foundation Earth
The Eco-Score is not the only eco-label project being tested. A European pilot project has recently been launched by Foundation Earth, a non-profit based in the UK. It counts with the support from several food groups such as Danone, PepsiCo and Nestlé. Retailers are also participating in the Foundation, including Aldi, Lidl, Morrisons, Tesco and Sainsbury's.
Like the Eco-Score, the Foundation Earth's Eco Impact scoring system is based on a Life Cycle Assessment method, with a rating from A (great) to G (not good). It will be tested over a period of 9 months, which has started in September. The very first brand to display the Eco Impact score on its products is Mash Direct, which has chosen 5 products for the pilot. Foundation Earth aims to have a standardised model and label for application across Europe in 2022.
The Eco-Score and other eco-labels are still in their infancy with trials underway in several European countries. The results of these tests should be known in the coming months and will help to better assess their impact. One thing is certain: consumers are keen on information, especially when it helps them adopt more sustainable behaviours. An independent label could help bridge the trust gap around sustainability claims.