Date published: 27.04.2021
How brands can support the reopening of pubs, bars and restaurants
After being closed for several months, pubs, bars and restaurants have reopened on April 12th with outdoor service only. Hardly hit by the sanitary crisis, the hospitality sector is hoping for a speedy recovery. Brands and retailers can play a role in supporting small businesses, contributing to a dynamic reopening. In this article, we look back at some of the solidarity initiatives from a variety of brands and share ideas to support the recovery of pubs, bars and restaurants in 2021.
Massive support from leading brands in 2020
The Covid-19 restrictions took a big toll on the hospitality industry. Since the start of the pandemic, brands have been mobilised to help the sector overcome difficulties. This includes brands for whom out of home is an important channel, in particular drink brands.
While bars and restaurants were closed, Heineken for example launched an initiative called "Back the bars" enabling people to buy vouchers to be redeemed later. The bar and restaurant owners received the monetary value of the voucher immediately, helping them face their fixed costs.
Budweiser Brewing Group UK & I launched a similar initiative, named "Save Pub Life" and allowing consumers to buy vouchers. The brand decided to match contributions from consumers when redistributing the money to pubs, bars and restaurants.
Carlsberg UK took a slightly different approach. It launched a free digital platform, "Love my local", to help small businesses sell online for take-out and delivery. The website also included video tutorials on how to promote your business online.
As for Coca-Cola, it decided to focus its efforts on the summer 2020 reopening, with a programme called "Open Like Never Before". Cola-Cola provided financial support, advertising space, and business mentorship to helps cafés, pubs and restaurants increase footfall. It for example launched an ad generator platform, allowing small businesses to create their own personalised adverts to share on social media.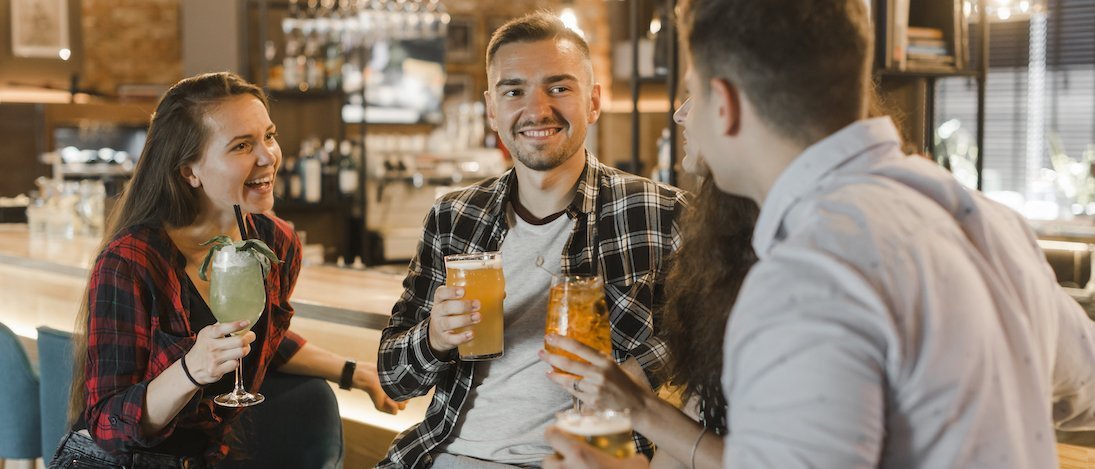 3 ideas to help the hospitality industry in 2021
As pubs and restaurants reopen across the UK, brands have a new opportunity to show their support and help drive more footfall and sales. Here are three ideas to support the British hospitality industry.
1. Give online visibility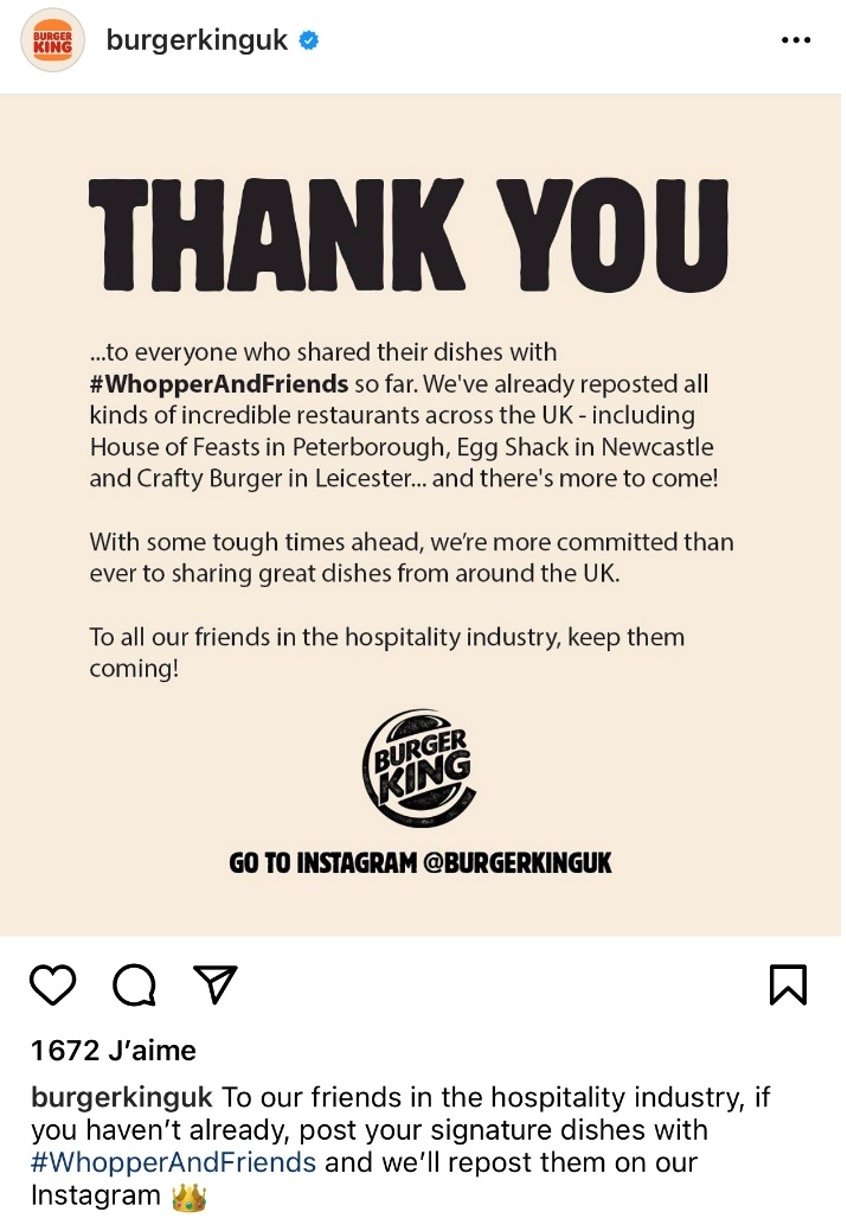 Consumer brands often have a large audience and loyal communities on social networks. As such, they can offer awareness and visibility to bars and restaurants.
Stella Artois for example regularly features local venues on its Instagram account. In April, it published a carousel on the Liverpool food scene, offering suggestions on where to have breakfast, lunch and dinner. It also invited its followers to share their favourite places.
Another brand leveraging Instagram for this purpose is Burger King. At the end of2020, it allowed restaurants to advertise on its Instagram account for free. All they had to do was to post a picture of their signature dish with the hashtag #WhopperAndFriends. Burger King then shared the pictures on its account, encouraging customers to visit the restaurants.
Why not take inspiration from these initiatives and recommend bars and restaurants on your website or social media channels to support them?
2. Create a promotional offer
To encourage consumers to visit bars and restaurants, another possibility is creating a promotional offer. At Shopmium, we have worked with several FMCG brands that wanted to develop special campaigns for out of home, such as Ribena, Carte d'Or and Get 27.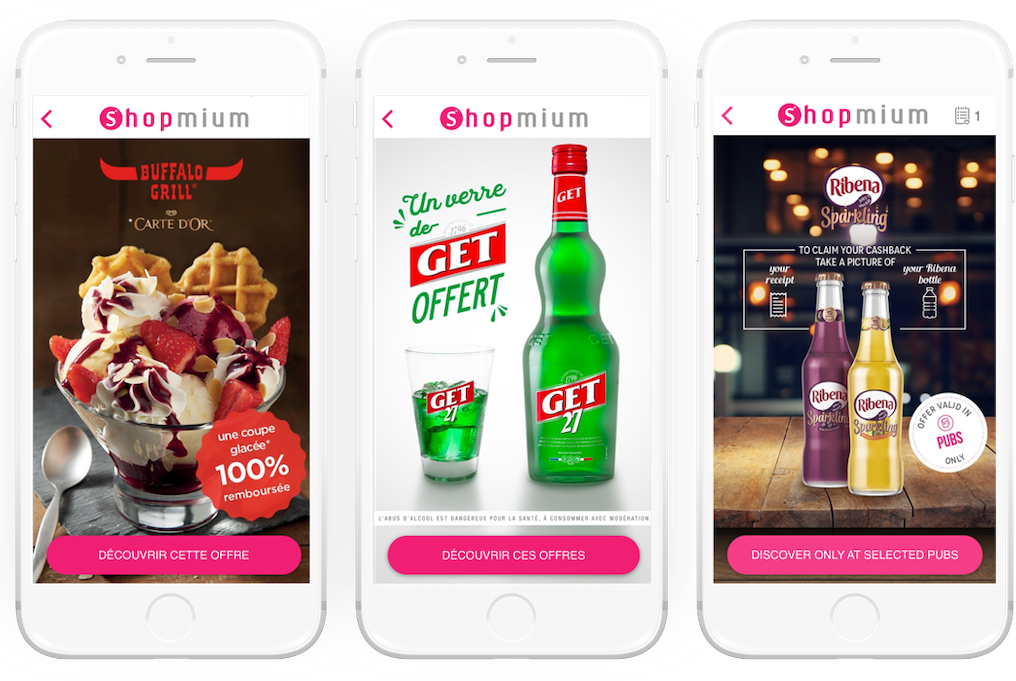 The mechanism of these campaigns is simple: offer a partial or full cashback for the purchase of a drink or snack in a bar or restaurant, through the Shopmium mobile app. It's a win-win approach for consumers, the brand and the venue. Consumers benefit from a promotion; the brand encourages discovery and purchase and the venue boosts its footfall.
Just as in retail, promotional offers are playing an increasingly important role in the hospitality industry, influencing consumer choices. Websites and apps such The Fork and Groupon have become very popular. They regularly have special offers, such as The Fork "Back to the Restaurant" festival which offered 50% off food at nearly 100 restaurants across the UK between September and November 2020.
In addition, many British households are facing a drop in income due to the sanitary crisis. Others have taken this opportunity to save money and may decide to continue limiting their spending on going out. An attractive promotional offer could encourage consumers to visit pubs, bars and restaurants.
3. Design a special experience
After months of staying at home, consumers want to be entertained. Capitalising on this trend, brands can create fun and engaging experiences which support bars and pubs. That's exactly what Mast-Jaegermeister UK did, with the creation of the Jägermeister Ice Cold Convoy, launched in the summer 2020 as part of the #savethenight initiative.
The convoy is made for the outdoors, including pub gardens. The different vehicles are designed as outdoor bars serving shots of Jägermeister, Jägermeister Cold Brew Coffee and the brand's signature cocktail, the Jägermeister Mule.
Claudia Jakubowski, Mast-Jaegermeister UK Event Manager, told thedrinksreports at launch: "As the UK on-trade continues to re-open, the Jägermeister Ice Cold Convoy is being provided to venues with accessibility to help drive revenue. As a company, we are focused on continuously seeking out ways we can support the trade. With these custom-fitted vehicles, we are bringing to market experiences, and perfect serves, that fit in with the lifestyles of our consumers."
Other brands could follow in the coming weeks and months with special summer outdoor events, tastings and festivals contributing to a dynamic recovery of the hospitality sector across the country. Why not think of a novel experience you could design?
As a conclusion, there are many ways to support the hospitality sector in 2021, while benefiting from a positive impact on your brand. These include offering visibility online or on social networks, creating a promotional offer or designing a special experience! And, by doing so, you could very well gain consumer confidence! Consumers nowadays expect brands to be useful and supportive. What if you seized this opportunity?