Date published: 26.05.2021
Consumer brands embrace solidarity amidst the pandemic
The Covid-19 pandemic sent shockwaves around the world. To face this upheaval, many solidarity initiatives emerged to help those most affected by the consequences of the crisis. Brands have also responded massively, with strong support to communities. In this article, discover how FMCG brands are playing their part and the innovative ways in which they are acting on the ground.
A massive surge of solidary and new expectations from consumers
Throughout 2020, FMCG brands were charitable at an unprecedented level. In Kind Direct for example, the product giving charity which connects companies with communities, said its partners "donated huge volumes of essential products throughout the year, over twice the volume received in 2019".
More and more consumers believe brands have a responsibility to give back to society. This trend, which has been amplified by the sanitary crisis, has a direct impact on their purchasing decisions. And more than half of consumers are willing to pay a premium for socially-conscious brands according to a recent GlobalWebIndex study.
As such, Corporate Social Responsibility (CSR) activities can contribute to consumer acquisition and retention, and make consumers less price sensitive.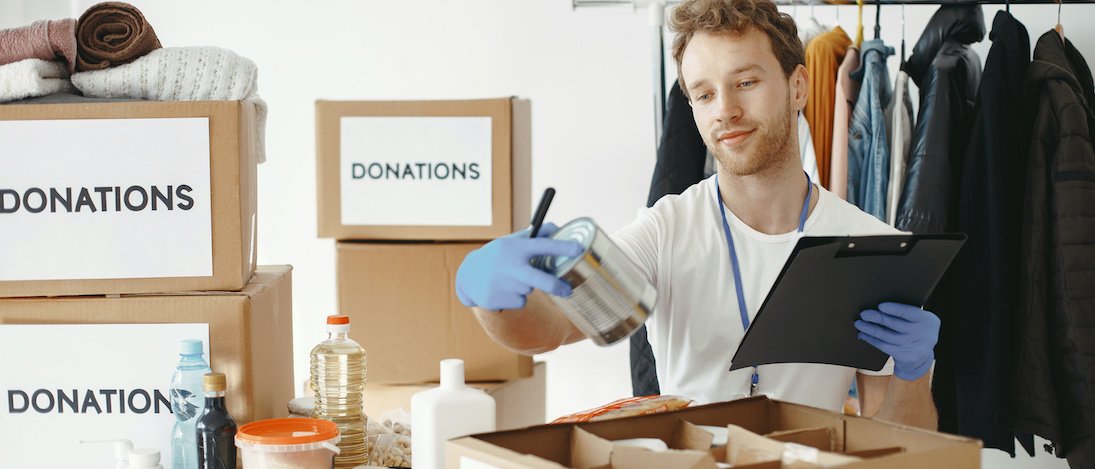 Solidarity initiatives supporting the most fragile
Brand solidarity activities often focus on the most fragile, including families living in poverty. Here are a few examples of how brands are supporting these vulnerable populations particularly affected by the crisis:
Nestlé UK & Ireland helped 8,000 low-income families who might otherwise have gone hungry during the 2020 school summer holidays. The company made a £1 million investment in social enterprises Community Shop and FoodCloud to give families access to food and various services over the summer.
In France, the soup brand Liebig collaborated with Shopmium on a product-sharing campaign to support the leading food bank Les Restos du Cœur. For each Liebig soup purchased by a member of the Shopmium community, a soup was given to the food bank. Liebig made an extra donation of €80,000, which represents 80,000 meals.
Ella's Kitchen, the UK's best-selling baby food brand and a certified B Corp, has donated over 1 million products since the start of the pandemic. The company partnered with several UK food banks including FareShare and Company Shop to help support vulnerable families and those at risk of poverty.
Recognising the efforts of health workers
The health crisis also put the spotlight on health workers, whose efforts to cope with the influx of patients have been unanimously praised. Several FMCG brands decided to show their support to NHS staff.
As such, many brands donated products to hospitals during the first wave of the epidemic, to bring some comfort to staff. Others provided on-the-ground support. Here are some examples of initiatives from brands:
Mars UK made donations worth over £4 million to support the NHS, carers and vulnerable communities across the UK during the pandemic. This includes one million Easter eggs donated to those working on the frontline of healthcare and members of the community most in need.
Ecotone UK (formerly Wessanen), which owns the brands Clipper Teas, Kallo, Whole Earth and Mrs Crimble's, offered its staff the chance to take a few hours away from work to volunteer for the NHS. This support took various forms: transporting elderly people to the hospital and back, offering phone support to vulnerable people in isolation and delivering food parcels.
In France, the brand Michel and Augustin launched a solidarity operation on the Shopmium mobile app inviting consumers to show their support. For the purchase of a drinkable yogurt though the app, a similar drinkable yogurt was offered to health workers. In total, the brand distributed more than 200,000 food products to hospitals.
Helping small businesses navigate the crisis
Other brands are choosing to help small businesses across the UK. Many have been struggling due to the crisis and some are worried about their long-term survival. Here is how brands are lending a helping hand.
Coca-Cola, Costa Coffee and innocent announced the launch of "Project Open" in March 2021. This accelerator programme has been designed to help cafes, pubs and restaurants recover from the pandemic. Small businesses selected to participate in the programme will get access to senior experts from participating companies and behavioural scientists to help them drive footfall and sales.
Jon Woods, General Manager of Coca-Cola Great Britain, said: "The past year has been the toughest in memory for hospitality businesses and we know it's our smallest customers who have the biggest challenge ahead. That's why our senior leaders have committed their time and expertise to helping these businesses get back on their feet. Through this programme, we will help some of our valued high street partners survive and thrive in the post-COVID era."
Another company trying to help small businesses is Mondelez and its brand Cadbury. An emotional ad was released before Mother's Day encouraging people to support local chocolate stores, with the claim "Help us help high street chocolate shops".
Colin O'Toole, Associate Director of Marketing for Cadbury UK and Ireland at Mondelez, said: "We are proud to be supporting local chocolatiers across the UK. As a nation, we've always been lucky to have a thriving chocolate scene, full of variety and creativity; and at Cadbury, we of course understand what it's like to start out as a small independent chocolate shop. So we wanted to take the opportunity to support our fellow chocolatiers and ask the nation to do the same."
In addition, as part of its partnership with Chelsea Football Club, Cadbury is involved in the Edge of the Box entrepreneurship programme, which helps people in the community build and start their own business. Edge of the Box has provided support and expert advice to a wide variety of entrepreneurs since the start of the pandemic, including 200 female-led start-ups.
Solidarity initiatives have therefore multiplied since the onset of the pandemic, with a strong commitment from brands to support the most vulnerable in our communities, health workers and small businesses which have all been affected by the crisis. While the majority of brands stood up to the plate at the height of the epidemic, many are still carrying out concrete actions in the field more than one year after the start of the crisis. With consumers looking for brands to commit and be a purposeful force for good, those with a long-term approach could stand out and gain a sustainable competitive advantage. However, this commitment must be perceived as sincere and genuine, and not just as a marketing strategy. In 2021, brands must be committed and authentic!