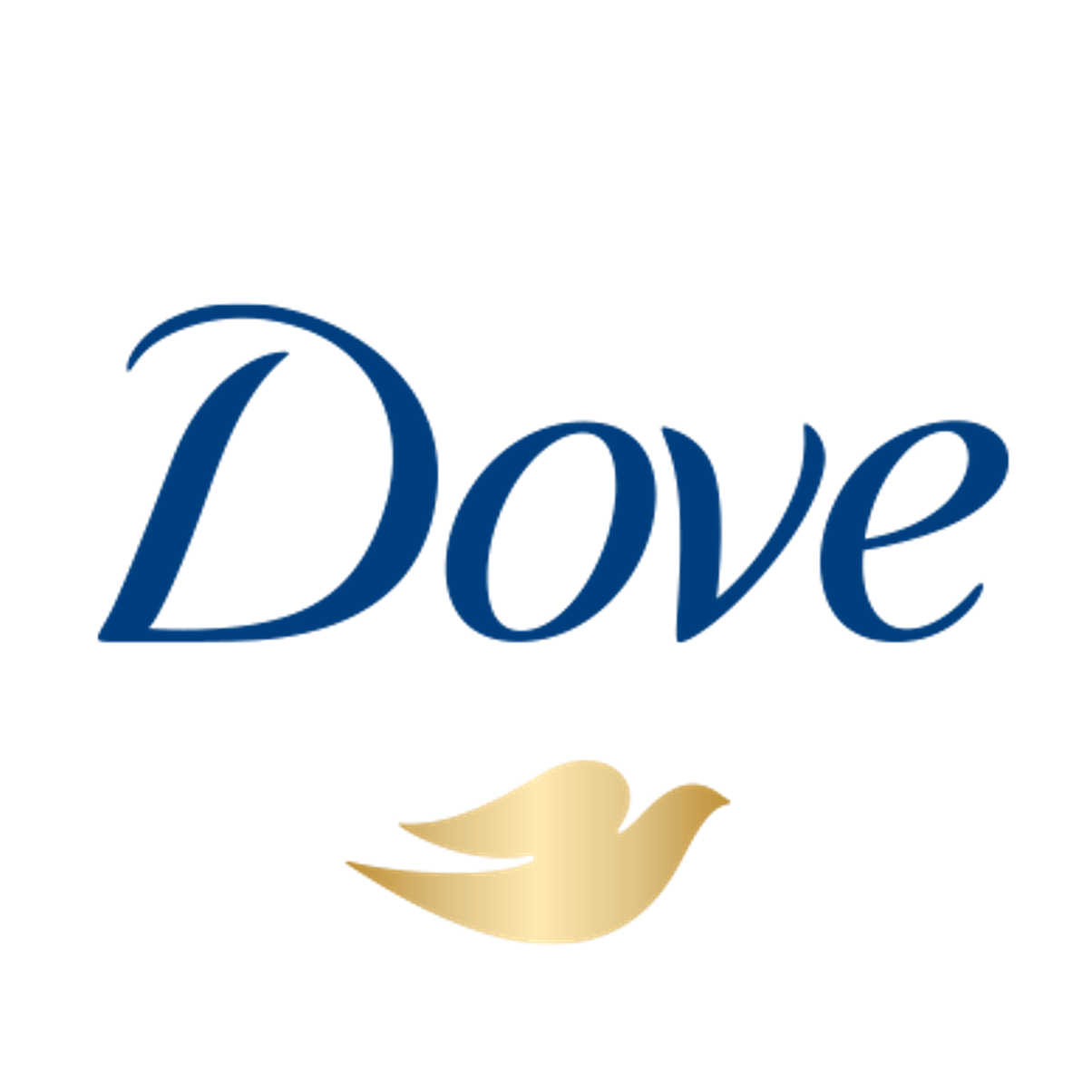 Dove Men+Care™
Context
Dove Men+Care™ recently launched a new range of products: Sport Active+Fresh, a body wash made to be refreshing after sport or exercise and an antiperspirant formulated to be tough on sweat, not skin.
Dove Men+Care™ partnered with home nations rugby teams (England, Ireland, Scotland & Wales) for the Sport credibility, to drive awareness, deliver trial and recruit new buyers, the brand ran a digital campaign in Shopmium's app.
The solution
Brand Media To Highlight Product & Rugby Partnership
Shopmium ran a video ad in-app that users had to watch and engage with prior to discovering their exclusive offer to try the products.
The Dove Men+Care™ ad generated more than 200,000 ad clicks, showing great interest from Shopmium users.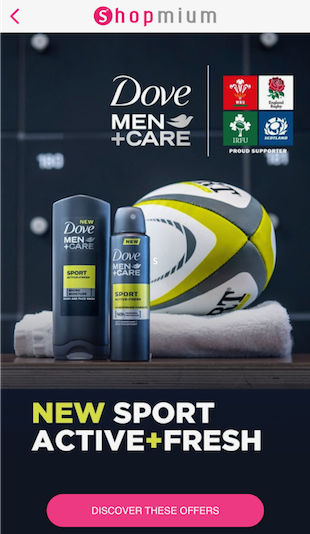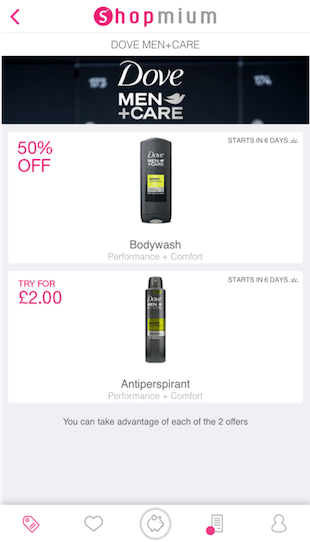 A Brand Corner For Better Visibility
Shopmium developed a brand corner in the app after the users engaged with the video ad to increase SKU visibility.
An effective choice as 78% of our users who bought one or the other product discovered them for the first time in Shopmium and 85% were new buyers. 
Reusable Insights, Ratings and Reviews & More
On social media as well as on the app, Dove Men+Care™'s campaign encountered great success.
More than a thousand users rated the products and gave them a very high grade of 4.6/5. More than 400 of those users also wrote a verbatim review of the products, offering valuable data and insights for the brand.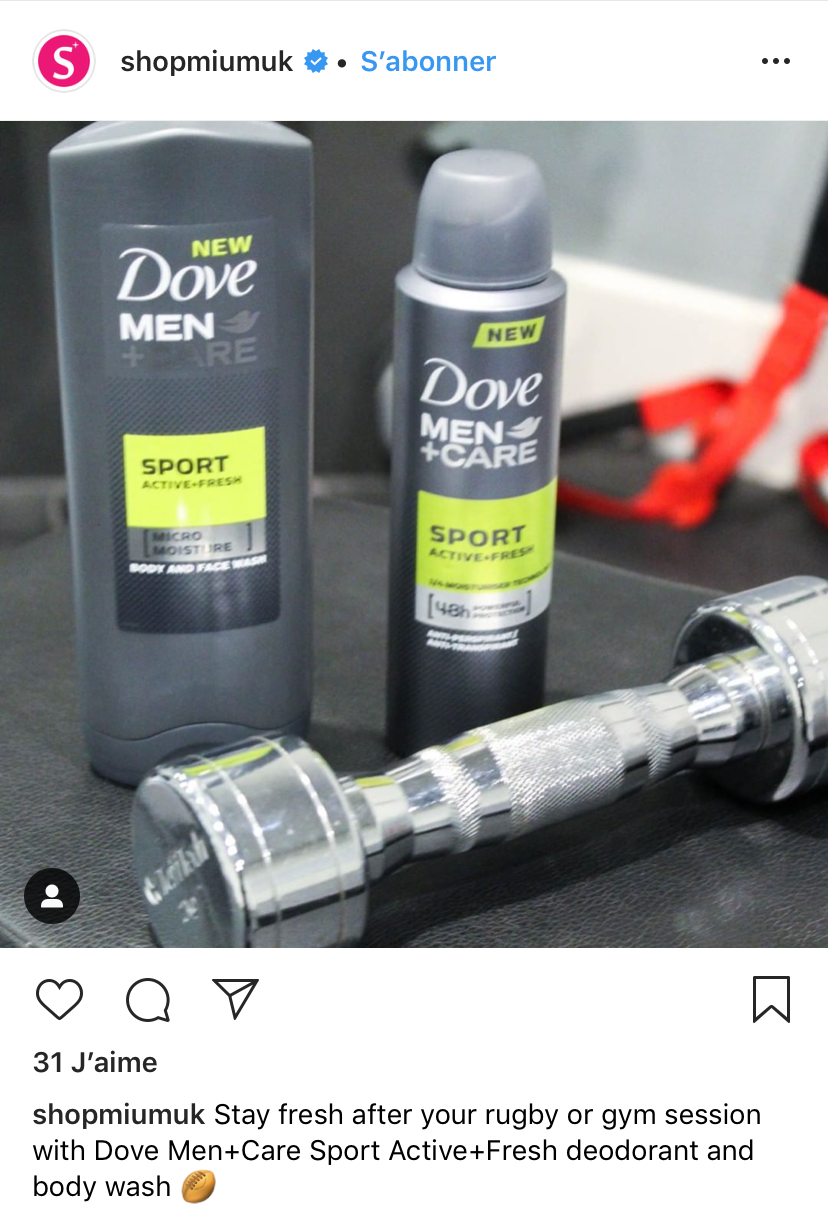 And we got the results!
What they said
Reviews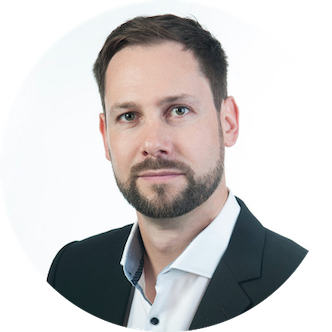 Dominik Schaerer
Marketing Manager Male Toiletries UK & Ireland
Shopmium convinced me by offering an opportunity to drive trial and reach new shoppers through a mobile app, where it is possible to reach shoppers in the right mindset where they are looking for new and exciting products – it therefore works well for us for new launches. It allows me to drive high quality engagement and awareness through mobile to a relevant audience for my brand, recruit new buyers and drive trial and guaranteed a minimum number of sales from the planning, so there are no surprises. Added benefits are that we can expand on retailers as we build distribution to focus our resources best for a given time, and that we get to understand who the new buyers are, what they think of our products and generate bespoke insights, ratings & reviews for future growth.