Kavli – St Helen's Farm
Context
St Helen's Farm, the leading goat's milk producer in the UK, is part of Kavli and has got over 30 years of experience as well as a whole range of products including goat's milk, yoghurt, cheese, butter and cream.
Cornelia Wernhart, Marketing Manager for St Helen's Farm, explains in a short interview why she worked with Shopmium and reveals the main results of her campaign:
The solution
Why did you choose Shopmium?
"We found out about Shopmium, as one of our other brands, Primula, is using and had great results.
We decided that it was a good opportunity for St Helen's Farm as it allows us to reach new target consumers & shoppers.
One key challenge we have for St Helen's Farm is "Awareness". It is less well known in the dairy category. We also know that "Trial" is very important because it's only when people try it that they realise how much they love it and how great it is.
In addition to driving Awareness and Trial, a key reason why Shopmium is great for us is because it allows us to deliver the key brand messages and benefits of goat's milk as well as the differences to cow's milk."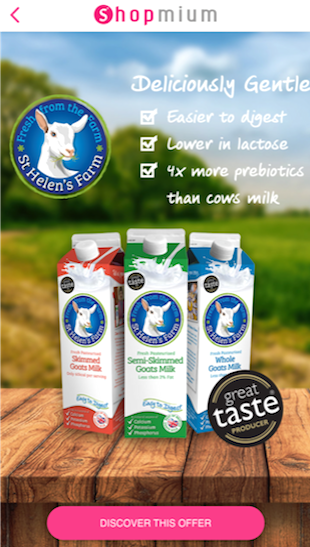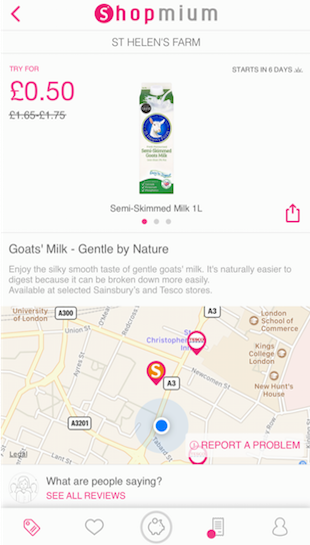 What results have you seen?
"The results we've had have been great.  We had a great ROI and what was fantastic for us was to understand at the time of booking (pre-campaign) what the results were going to be. Shopmium measured the effectiveness of the whole campaign from engagement with consumers to sales in store as well as what shoppers thought.
What is also really good for a brand like ours is to understand more about those new consumers. Understand how the product compares to other products they usually have, what they would have bought if they didn't have this offer and whether or not they would purchase the product again.
Again, the results were really good too. The vast majority of Shopmium users had never had goat's milk before, so they were new to the category and their repurchase intent was high too."
How do you see yourself using Shopmium?
"Shopmium has some great advantages over other tools and activities. With Shopmium, we know exactly how many people we will reach and engage with as well as  how many people will try our product and what our return on investment will be before we've even run the campaign.
And afterwards, we find out exactly what they thought about it. Which is fantastic.
The experience we have had with Shopmium has shown us that it is a great tool to use both strategically and tactically. We are making it a part of our marketing plan going forward to recruit new shoppers for our current range but also for our new products."