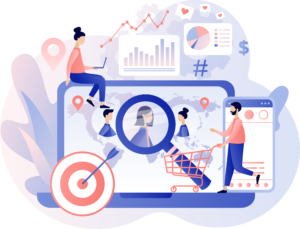 A new strategic partnership to disrupt retail data in Europe!
Discover a competitive & retail-agnostic dataset
to deliver results at scale for the FMCG sector.
Leading FMCG cash-back app Shopmium strategically partners with global leader in audience measurement Nielsen, in a bid to improve data-driven marketing in the FMCG sector post-cookies. Shopmium's data combined with the Nielsen Marketing Cloud's comprehensive consumer data will enable brands to gain an omnichannel view of consumers across different buying signals and retailers.
Shopmium is the free mobile app with +10 million downloads providing exclusive discounts on FMCG products that consumers buy in-store or online. Through its logged services Shopmium captures their own 1st party proprietary & exclusive data based on multi-retailer purchase receipts and delivers a reliable pool of cookieless seed data.
This data is then modeled out by Nielsen, scaled up, and distributed to platforms for activation. Nielsen's advanced data modeling and enrichment methodology, powered by AI, enables real-time optimization of the audience segments. With this technology, Nielsen is able to create valuable lookalike segments based on the Shopmium consumer base in order to deliver at scale across the digital landscape.
"In a world where FMCG brands struggle to collect 1st party data from their consumers, a Shopmium in-app activation followed by Nielsen data enhancement now provides  a solution to re-engage buyers and their lookalikes outside the app on programmatic channels such as video, social media, display, native and audio at  scale." Explains Guillaume Durand, Head of Shopmium France & Belgium.
"The new opportunities presented to clients are significant. Consumer brand marketers are demanding seamless digital solutions to deliver results at scale. Together we can meet this need by bringing a unique  combination of insights, activation and measurement that will propel the industry forward. Marketers, in turn, will be able to access more than 500 FMCG-ready buyer segments with all different size ranges for use on a variety of platforms in the UK and France." Says Paul Barnard, Country Lead Northern Europe at Nielsen Marketing Cloud.
Marketers can leverage those new co-branded segments at a category, brand or even retailer level to plan, activate and analyze their marketing campaigns across media in order to influence shopping behavior, build brand loyalty or enhance the shopping experience for consumers.
"The current retail media market is too siloed and usually very costly which can negatively impact campaign ROI. Through this collaboration with Nielsen we are looking to bring a more holistic approach to shoppers activation through reliable and multi-retailer data at a much more reasonable price point." Says Guillaume Durand.
About Shopmium: solutions.shopmium.com
Shopmium is a company founded in 2011 that offers a set of marketing solutions for consumer brands in France, the United Kingdom and Belgium. Its main activity is based on a mobile application which has more than 10 million downloads and allows brands to promote their products while offering exclusive promotions to consumers. Shopmium also offers media amplification solutions, based on transactional consumption data from its community.
In 2015, Shopmium joined the American group Quotient Technology Inc., the American leader in digital couponing created in 1998.
"Nielsen and Quotient already established this relationship a few years ago in the US. We are now thrilled to be able to roll out these capabilities across the UK and France with Shopmium." Concludes Guillaume Tailhan-Cartier.
About Nielsen: www.nielsen.com
Nielsen shapes the world's media and content as a global leader in audience measurement, data and analytics. Through our understanding of people and their behaviors across all channels and platforms, we empower our clients with independent and actionable intelligence so they can connect and engage with their audiences—now and into the future.
An S&P 500 company, Nielsen (NYSE: NLSN) operates around the world in more than 55 countries. Learn more at www.nielsen.com or www.nielsen.com/investors and connect with us on social media.